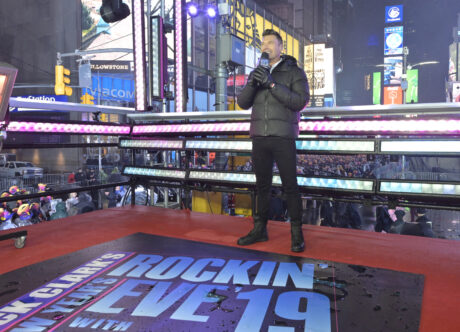 NEW YORK – Millions of viewers welcomed 2019 by watching Dick Clark's New Year's Rockin' Eve with Ryan Seacrest.  They saw stars like Christina Aguilera, Bastille and New Kids On The Block welcome in the New Year on the Midnight Countdown Stage, a surprisingly small open structure perched over the one million celebrants who crowded every inch of Times Square. They also watched in anticipation, as they do every year, as the giant ball dropped from atop One Times Square at midnight.
More details from Chauvet (www.chauvetprofessional.com):
What these viewers didn't see very much of, though, were the fire egress routes located throughout Times Square. Put in place by NYPD, these passages are essential security measures, but their empty space and utilitarian guard rails don't make for compelling television. In the past, their presence limited the number of wide camera shots taken from the Midnight Countdown Stage, but as 2018 turned to 2019, the Lighting Design Group came up with a way to block the lanes from view with the help of 12 CHAUVET Professional COLORado Solo Batten fixtures, supplied by WorldStage.
"Most viewers at home don't realize there are so many egress lanes all over Times Square," said the Lighting Design Group's Mike Grabowski. "The show had to be very careful about going to wide shots, since all you would see were railings and empty egress streets. This presented a challenge, because the wide shots could provide a very helpful change of scenery in a show that goes from 8 pm until after midnight."
As the lighting designer of the Midnight Countdown Stage, Grabowski was looking for a way to address this issue. He found it when he saw a video of the COLORado Solo Batten. "I felt they were unique for a strip-style fixture, since they appeared to create a single bar of light without individual pixels showing," he said. "I thought this would be rad eye candy!"
Being smaller than conventional strip lights, the new COLORado Solo Batten fixtures could also fit on the Midnight Countdown Stage's railings.  This allowed Grabowski to create "a dynamic lighting element that fit the aesthetics of the broadcast while blocking out the view of the egress lanes with their light."
In addition to solving the issue of the visible egress lanes, the COLORado Solo Batten added a new visual twist to the show's lighting, according to Grabowski. "They are very cool looking, and something never seen before," he said. "I believe we are the first to use these fixtures in a national broadcast application."
Being part outdoors and part indoors, the Midnight Countdown Stage creates challenges dealing with the elements, which is something that made Grabowski appreciate the IP65 rating of the new RGBAW batten.  "The hardest component of this project is that it is both inside and outside," he said. "Inside is pretty straightforward, but outdoors creates an added complication. The outside is fully exposed to the elements, and that's never predictable. Last year was the coldest New Year's on record, and this year was the wettest. With LEDs in particular, weather rating becomes wildly important, because both cold and wet can cause failures. We had no issues with the COLORados."
Blocking egress lanes from view and contending with the elements were only two of the issues that Grabowski had to deal with New Year's Eve. "You have to achieve a balance when designing for this type of stage," he said. "It's the balance of cramming as much dynamic energy and fun into a small stage, while still making talent look beautiful. Overall, a lot of it is driven by energy and motion — wanting to have things constantly moving, but also finding ways to give us a place to go with it. You can't be full throttle the entire time!
"The other key thing to keep in mind during the design process is that this stage is seen in wide shots, so we have to make a presentation for the various roof and helicopter shots. Our design also had to be big and dynamic enough to be able to be seen from 10 blocks away, or 10 floors away."
Pulling all of these design elements together required a team effort. Grabowski praised the work of his colleagues Wolfram Ott and Jeremy Dominik, associate designers; Ron LaValle Inside IATSE Head; Joseph Cartagena Outside IATSE head; Ryan Phillips Outside Programmer; Steve Garner Inside Programmer; and David Cook Lighting PM.
"There are a lot of moving pieces that have to come together to make something like this work, starting with people," said Grabowski. And this year an innovative new fixture too.