At just over 5,000 square feet, the election headquarters of ABC News combines the latest in display and augmented technology to showcase the scale and impact of the 2018 midterms.
"We knew this was going to be a huge election and we wanted a space that for both the viewer and presenter would convey the magnitude of this election," notes Seth Easter, the set designer on the project.
"We wanted to fit as many people as we could on this set. All of our main anchors and talent have their different views and can add things to the story and we wanted to get as many of them in the room as possible so they could have a discussion on what's going on."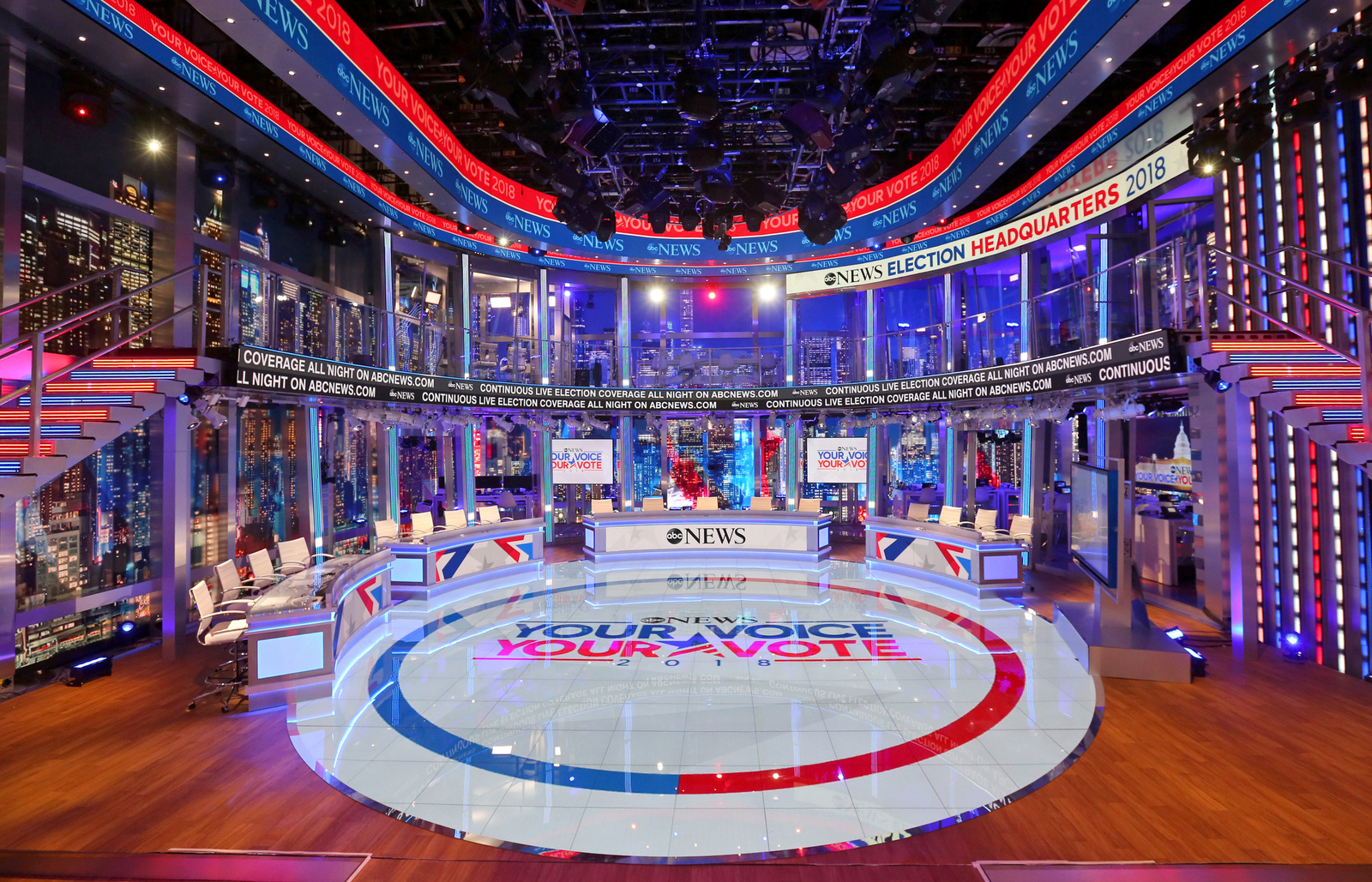 The space is designed around a circular LED on the floor of Studio TV2 at ABC's Lincoln Square headquarters in New York which serves the dual purpose of creating a canvas for augmented reality and also connecting each of the set's various desks and areas.
In total, the set is built to accommodate 60 people across its two-story expanse with 22 anchors at the helm to lead the conversation.
A wider discussion
"I was trying to create something that feels like it could be anywhere, any city. I didn't want it to feel super New York-centric," adds Easter. "It's about being part of America, because it's not a New York conversation but a countrywide conversation, so that's where I started on this process. Then having something that felt like we could have everyone included together, talking together, working together… showing viewers that we're working to get the information and facts and that everyone is seen and heard."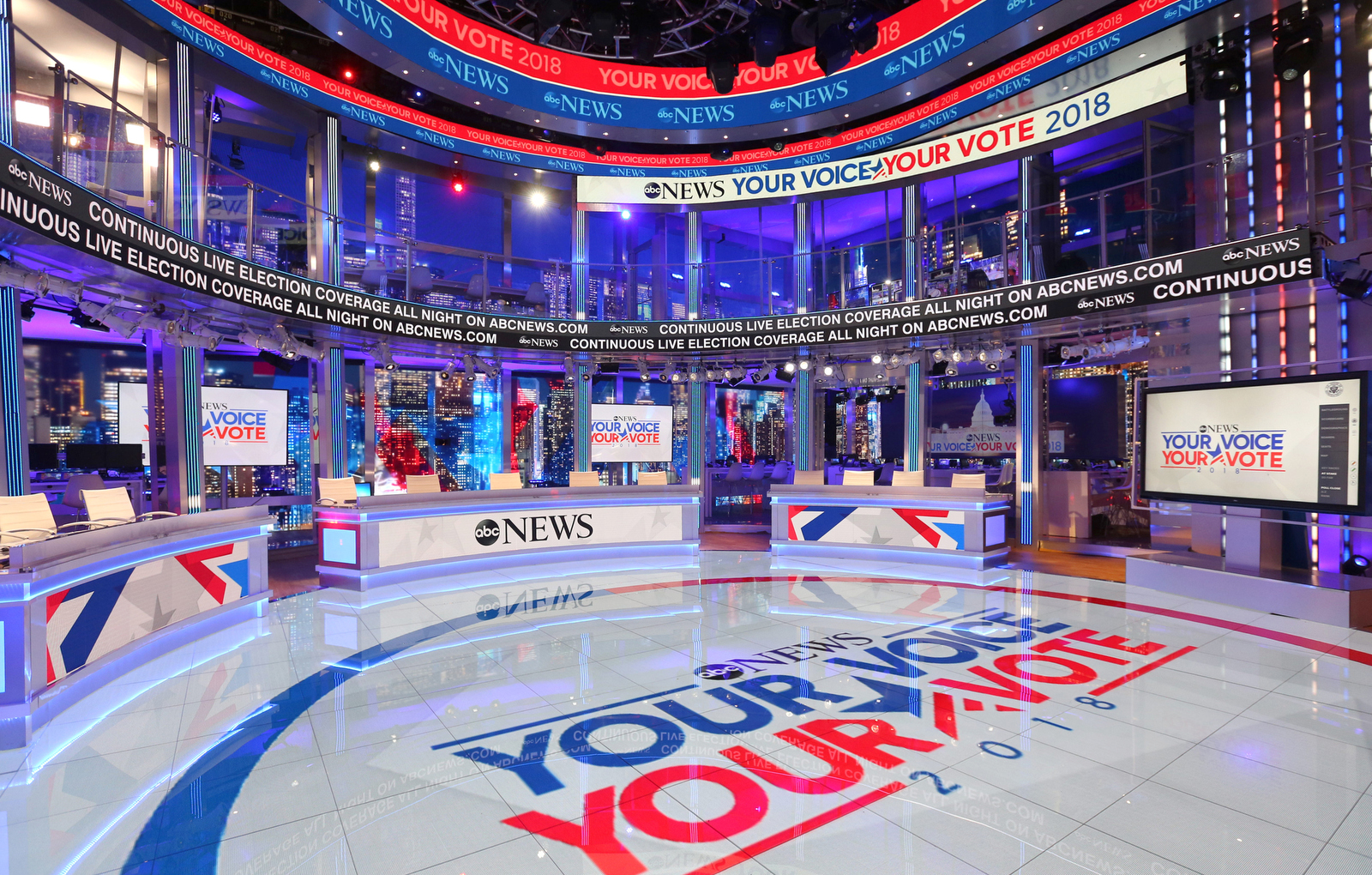 Easter began the design process in May with ABC's Times Square Studios originally eyed as the home of election night coverage, similar to 2016. However, with the addition of "GMA Day," this was proving to be a tricky task until "The Chew" ended its daytime run on the network, freeing up a dedicated location for election night coverage.
Knowing the design would be temporary and on-air for only a few days, most of the equipment used on set is rental from VER with Modtruss at the core.
"What's interesting about the set is that all of it is made from Modtruss that has been clad in aluminum Dibond and then video panels behind," said Easter. "There's a lot of custom glass pieces and staircases, but a lot of this had to come together based on existing products because of the timeframe we had."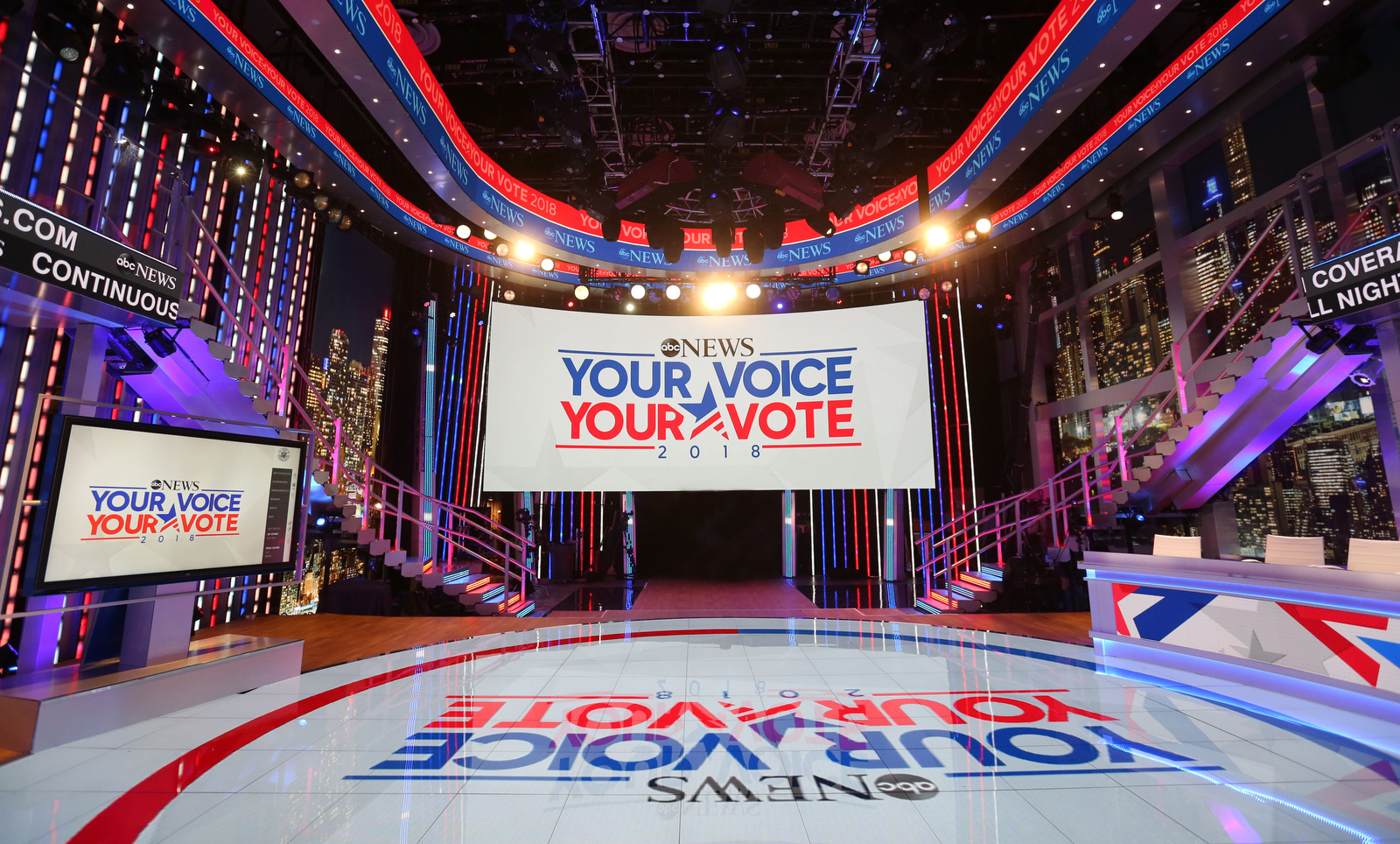 With a grid height of roughly 34 feet, Studio TV2 allowed for a second story on the set design, which includes additional wrap-around LED panels, a smaller studio space for web streaming coverage and control area for lighting and AR, while also giving the space a larger-than-life scale.
Dennis Size of The Lighting Design Group provided the lighting design with fabrication by Filmwerks and Showman.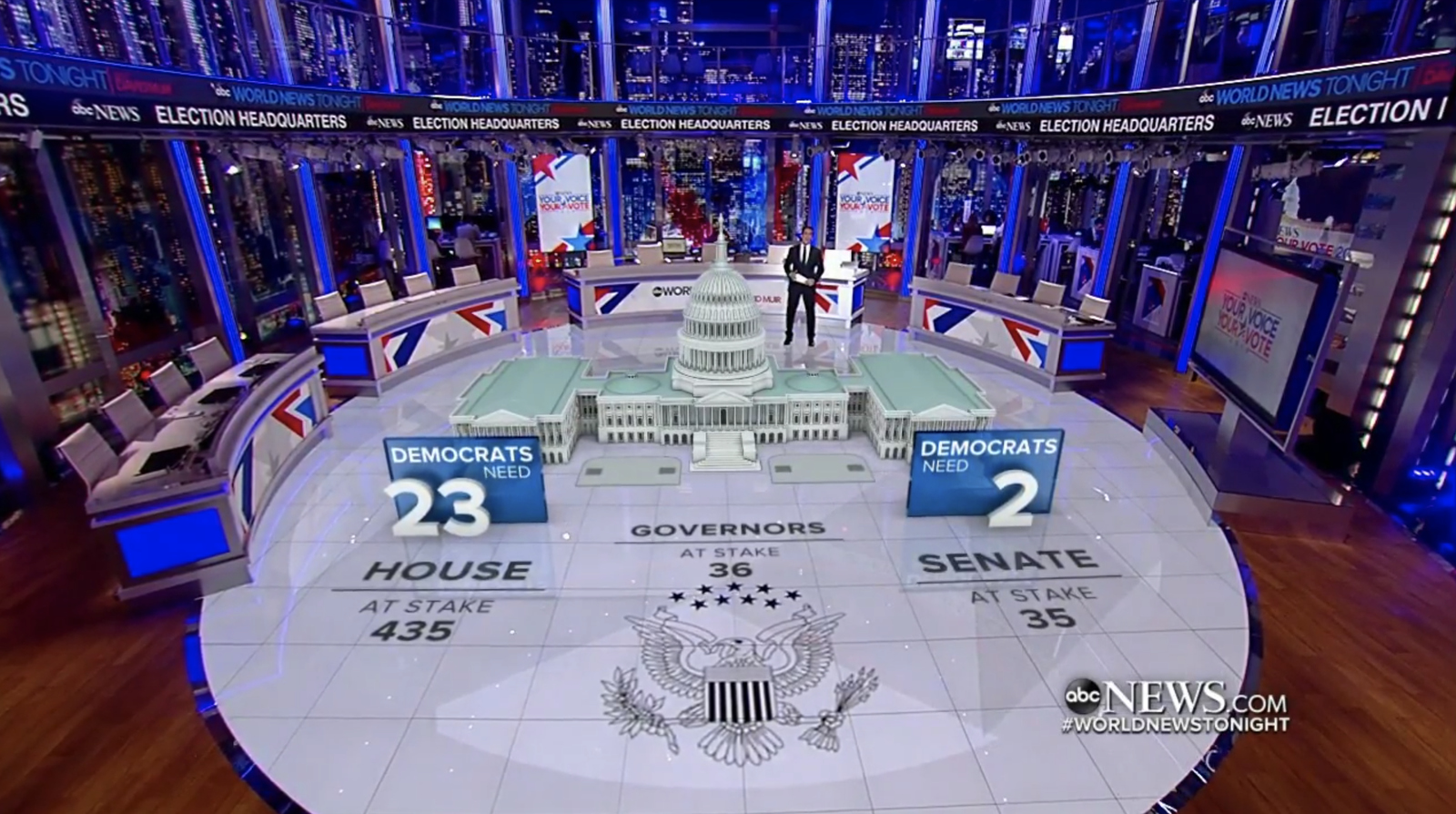 Telling the story with AR
In addition to the numerous LED walls on set, the space also includes a portal for augmented reality graphics through the set's central floor LED.
"We really wanted to have the additional storytelling tool of the augmented reality and we needed a canvas that would allow us to really show it off with meaningful information so it's less of a gimmick and more of a tool," notes Easter.
Combining both video and AR in the studio, the broadcast is able to layer elements for a more convincing appearance on-air.
Working with Astucemedia and using graphics solutions from Vizrt, ABC's augmented reality implementation focuses on breaking down data for viewers, such as the balance of power, individual House and Senate results, polling data and trends in the election.
Mo-Sys Engineering provided AR tracking for two cameras, including a jib and Steadicam, with a total of 15 cameras in the studio for election night.
ABC News will also use Times Square for part of its presentation with a jib to capture bump shots on the various billboards and video screens.
By The Numbers
10 different types of led screens

Upper cyc cityscape – WinVision 9mm

Upper ticker and lower ticker – Barcom 5mm

Middle Ticker between floors – Roe 3mm

Floor Monitor – Roe Black Onyx 3mm

Upper screens – 98″ Planar touchscreens

Hero Wall at the back of studio – Roe 3mm

Over 18 million individual video pixels (Total of 18,116,613)
120 chain motors
15 cameras
8, 54' tractor trailers of scenery and video screens
Over half a mile of aluminum mod truss
7 weeks to load in and build out
Over 25,000 square feet of scenery and video
Just over 400 individual light's for talent and scenery
Project Credits
ABC News creative director Hal Aronow-Theil
Set Design by Seth Easter
Fabrication by Filmwerks and Showman Fabricators
Lighting by Dennis Size of The Lighting Design Group
Display Technology by VER
Augmented Reality by Astucemedia, Vizrt and Mo-Sys Engineering
Media servers from Green Hippo