Politics has dominated news coverage for the past several months, keeping Lighting Directors, Designers, and DPs busy scrambling to capture the blow-by-blow scrum of our political process.
Key to primary season is the debates, hosted by major networks, which play a prominent role for the candidates to share their ideas and demeanor with massive audiences.
The stakes are high.
"Every four years you have this alignment which dominates the television landscape. It's the concurrence of the Summer Olympics, political conventions, and debates. We don't sleep much," says Dennis Size, Vice President of Design for The Lighting Design Group (LDG).
Behind many of the debates, you find Size and the team at LDG, including President Steve Brill as well Gaffers Lesli Tilly and Jon Goss, working hard to ensure everyone — candidate and moderator — look their best. The large importance and scope of these televised events mean challenges abound.
Debate Venues
One such challenge of the presidential debates is the venues.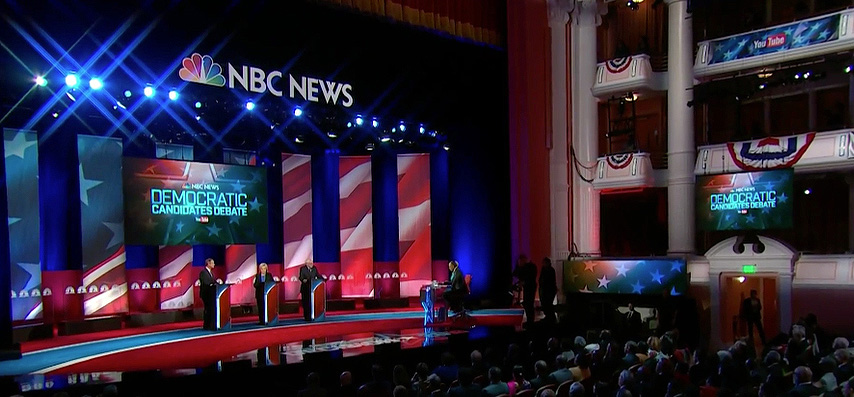 Built to hold large audiences, they differ wildly from traditional television studios.
"The distance between the talent and their light in a studio can be as little as ten feet, but in a large theatre or arena it could be a hundred feet," says Lesli Tilly, who often works with Size on LDG's large projects.
"Large, soft light sources from close up are extremely flattering for faces, but that's impossible when the light source is 40, 50, or well over 100 feet from the talent's face," continues Size. "Soft source are uncontrollable, so we use point sources tailored specifically for their target — often with merely a beam spread of 3 feet by 3 feet!"
Thus not a lot of big, soft sources are used. A trade-off exists, however, in using point sources: harsher shadows.
In a studio environment, raising or lowering the light can mitigate the shadows created by smaller sources. That isn't possible in a large arena or typical theater. Care must be taken in preproduction to specify the right instrument type for the job.
The Audience
Shooting a live audience in these venues presents another challenge.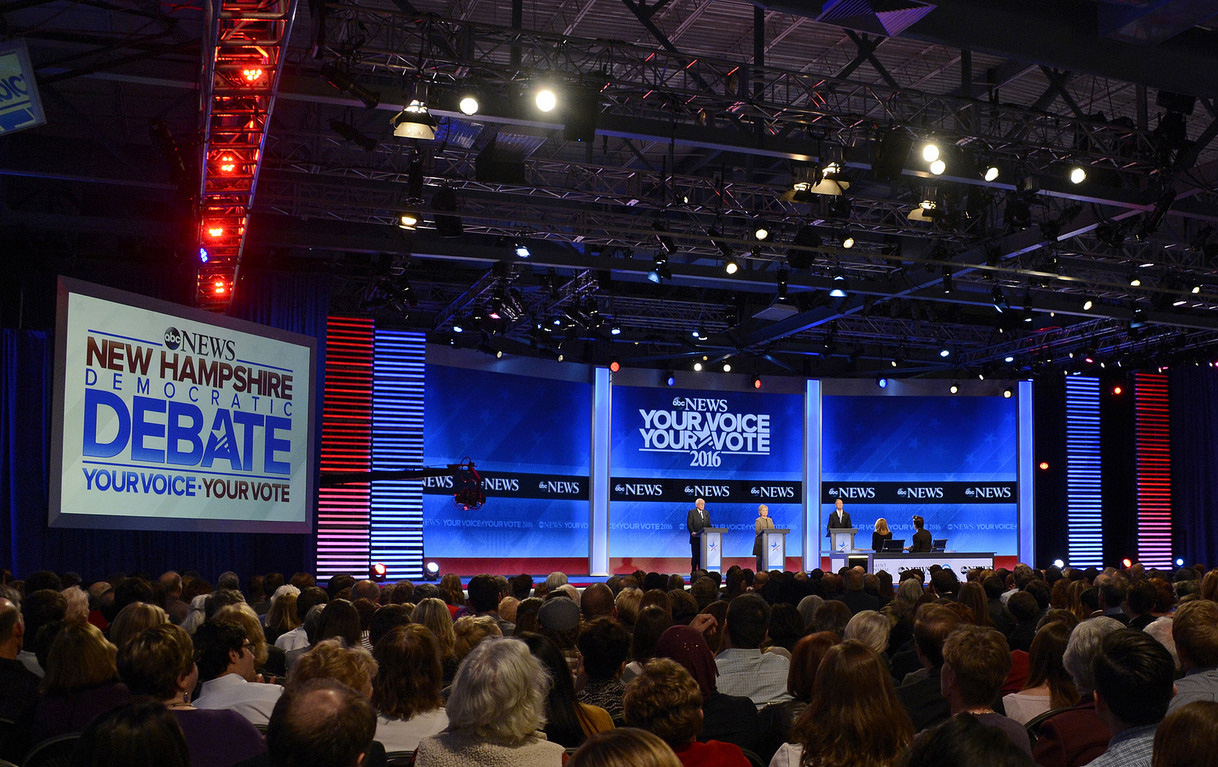 "Architectural house lighting is usually not adequate for cameras, and it almost always isn't aesthetically acceptable. Thus the design of the audience lighting needs consideration from the beginning, which means creating positions and lighting the audience in ways never intended in the construction of the venue," said Steve Brill.
This element of the show cannot be an afterthought.
Staging and Sets
The debates are more like touring a theatrical show then a traditional TV production, which adds another set of complications. The Art Director does the first set up, but often the lighting department ensures the scenery is properly placed in each venue thereafter.
Also, many networks temporarily relocate regular morning and evening programming to broadcast from the debate venue.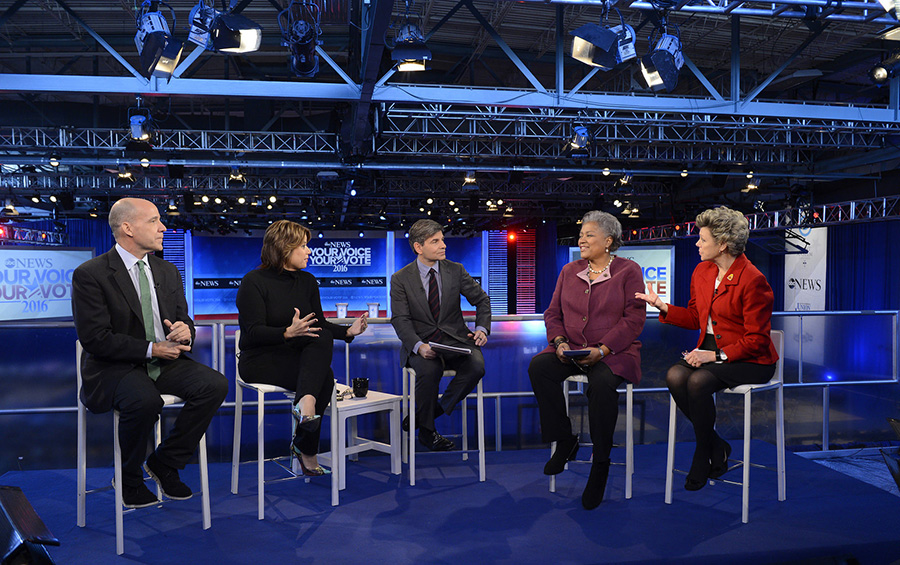 "The producers and talent expect the same quality in their lighting as in their home studios, even on location," says Brill. Add to that stand-up positions inside the venue for reporter hits or lighting the post-debate spin room, suddenly the workload goes well beyond what one person can handle.
"The debate is only part of what is being broadcast from each venue," adds Mark London, Vice President of Operations for LDG, "To handle all the various smaller setups that surround the main debate, we bring a team of designers to handle the workload in these satellite locations."
A One Time Show
Other challenges abound when lighting presidential debates. A major one is there are no second chances.
"One of the biggest challenges — and also for me one of the joys — is that like doing live theater, you have one chance. You rehearse, you prepare for everything, and still, there's no guarantee that it's all going to go according to plan," said Tilly.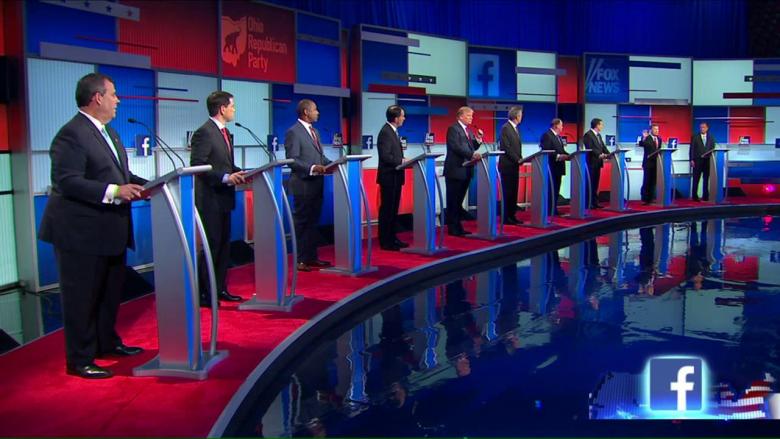 Often it doesn't. Campaign media staff may request last minute tweaks to the lighting. New polls may change candidate positioning on stage. A candidate may drop out, necessitating every light be re-focused now that the podiums have been re-centered.
Thus the importance of building in flexibility becomes paramount.
"Invariably a director says to me, 'We'll use camera two for candidate X and that'll be his camera,' and within three minutes of the debate, the director had to swing camera five over because camera two is somewhere else. You're lit for camera two, but have to react immediately to make sure he or she looks great from camera five now as well," said Size.
Tilly continues, "Changes come often and you have to continually adjust and adapt. The best tools you have are past debate experiences and the preparation you've done for the show."
Rehearsal time is often scarce. Brill added, chuckling, "And the candidates are never on stage at the same time until the show is live!" Furthermore no one can predict the back and forth that will occur, meaning the entire crew must be ready for nearly everything.
There is no muscle memory to fall back on.
The debate schedules are often grueling.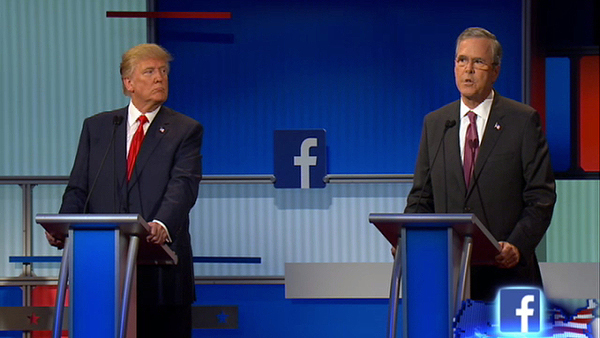 "Depending on the network and the venue, we're generally onsite from five to six days in advance of the day of the debate. We'll be completely gone by about 5 P.M. the following day," says Tilly.
On-site changes quickly multiply the workload because of their cascading affects on the rig.
"These are large venues typically, with positions that aren't always easily accessible. We're communicating via radio. It all can really slow a load-in down," adds Size.
Planning Makes Perfect
Planning for debates of this magnitude often begins months in advance.
Scenic companies generate renderings, which helps guide the design. The discussions regarding budget are usually lengthy and involved.
"Money is tighter across the board in television and that includes debates. Networks want to make sure every dollar spent is not a dollar wasted on excesses," says Brill.
Gear rental influences the overall budget greatly.
"Often theaters are easier and cheaper," says Tilly, "because they usually have a large inventory of stock to pull from. Arenas usually have very little, if anything at all. This greatly affects the cost of the rental package."
While the lengthy preproduction window is time consuming and challenging, it's not all bad.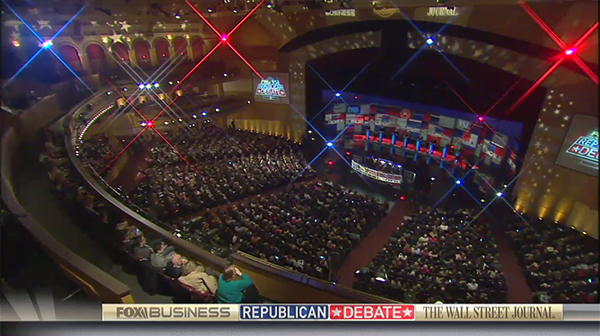 "A good thing about longer preproduction times," adds Tilly, "is that you know the show in and out. So by the time things begin changing on-site, the entire plot is cemented in your mind. You're ready for anything."
Gaffer Jon Goss adds, "The only constant thing in this business is change. We must embrace that philosophy and adapt to all of the changes as an integral part of the process: from initial concept, to planning and budgeting, through load-in, focus, and rehearsal. Skilled planning and talented people makes those changes easier, as does having some of the new technology now available, like LED fixtures, moving lights, and the correct lighting console."
The Election Continues
LDG has done four primary presidential debates thus far, and is slated to do another five before March 2016. The large volume clearly suggests debates will continue to play a huge role in our politics.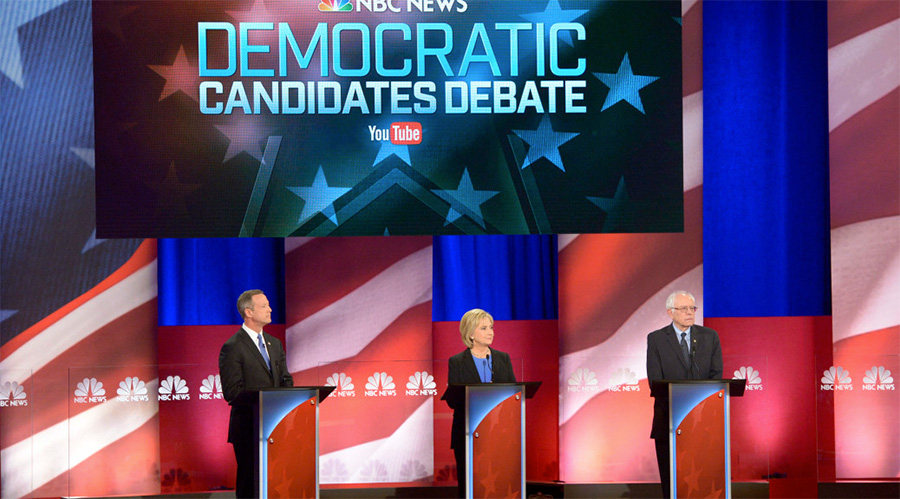 What a candidate says and how they look are crucial to winning skeptical voters.
While LDs have no control over the former, our work is the infrastructure for the latter. Like infrastructure, it's never good to be noticed.
"We need lighting, otherwise nobody can see and nobody looks particularly good. Great lighting should allow the candidate to present him or herself as they wish to be presented. But to call attention to ourselves, especially negative but positive too, is to miss the mark. Debates are about candidates, moderators, and the exchange of ideas," concludes Size, "Not lighting."
There's little debate about that.