"PBS NewsHour" debuted a redesigned set last week by Eric Siegel, along with new music and graphics.
Helping achieve the unique and airy look for the project was Dennis Size of The Lighting Design Group.
The lighting design involved a total overhaul of the existing electrical system – removing the decades old, malfunctioning dimmers and converting the existing circuits in the grid to hot power appropriate for LED technology.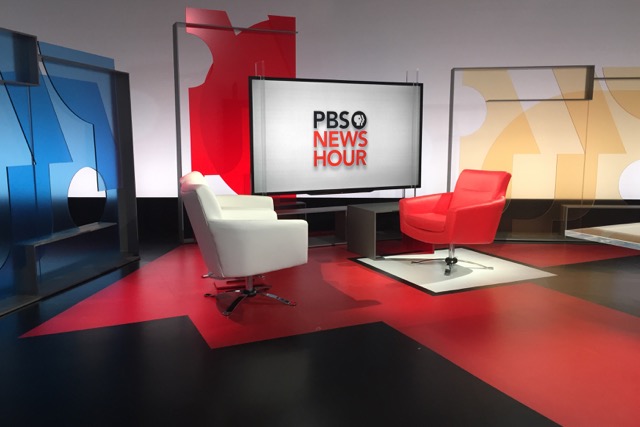 Gaffer, Lesli Tilly, along with electricians supplied by LDG's D.C. labor pool, worked closely with Barbizon Lighting and "NewsHour" Lighting Director Charlie Ide to convert WETA-TV's Studio A, in Shirlington, Virginia, to an energy efficient space.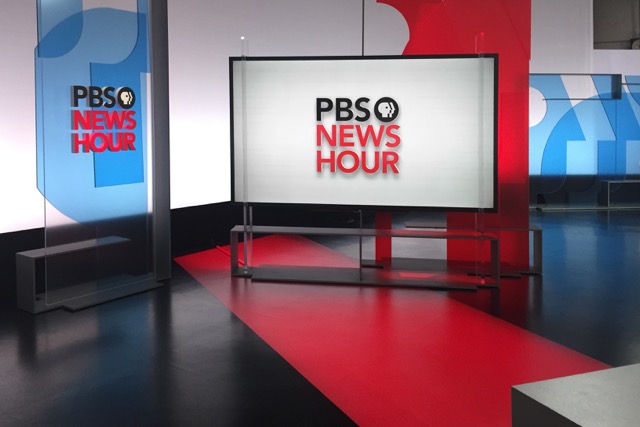 The lighting equipment consisted of:
80 Source 4 Lustre Series 2 ellipsoidal, using primarily 14 and 19 degree lenses, as key and fill lights.
70 Selecon LED Cyc Lights were purchased to light the cyc entirely from the floor.
25 Sola 12 Lite Panels LED fresnels as softlight washes.
10 Cineo Matchstixs to provide a soft fill from below for the main anchor desk — counter-balancing the ellipsoidal key lights, almost all of which were hung at 20′.
The color temperature chosen for the studio was 5,000 degrees Kelvin, in part for the crisp "pure white' quality of daylight, and also because of all the large monitors used all around the set.
Control is achieved by an ETC Gio console.
The set design includes four interview areas, large freestanding acrylic panels and a 360 degree 20′ high white cyc, which required testing to achieve the desired look. The design required the acrylic panels to be lit only by the bounce light off the cyc itself.
Units were demoed at Gotham's Scenic Shop in New Jersey to ensure they would be the right fit and work with the unique design.