Steve Brill, president of The Lighting Design Group, worked with CNN and Clickspring Design to light the CNN Heroes gala and award ceremony this past November at The American Museum of Natural History in New York City.
"The museum and specifically the Whale Room are very active, so the biggest challenge was having time in the space. We needed to be flexible with our schedule and footprint," said Sheryl Warren-Wisniewski, the lighting project manager who also worked as on-site manager for the project. "It is also a very old building, so many of the conveniences in new buildings just aren't there – for instance, there is no real loading dock where a large truck will fit."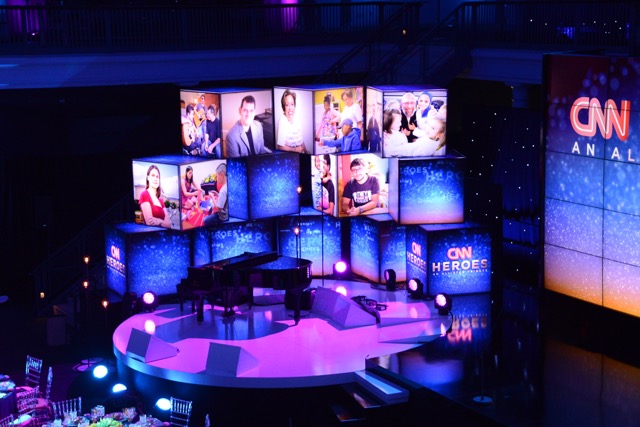 "CNN Heroes isn't a simple awards show. There were presenters, multiple video clips of the Heroes (which involved different cues), two musical performances, and various stand-up positions throughout the room," said Dan Rousseau, a staff lighting designer who assisted during the preproduction phase and load-in with Wolfram Ott. "The shoot was accomplished with four ped. cameras, three handheld cameras, two jibs, and a steadi-cam. The event ran as if it were being televised live with breaks between blocks."
The lighting rig consisted of:
Vari*Lites VL 3500 Spots
Martin Mac Viper Performances
Martin Mac Auras
Clay Paky Sharpie Profiles
Chroma-Q Color Force 72″ Strips
ColorKinetic Color Blast TRXs
Selecon Studio Panels
200 linear feet of star drop from Rose Brand
Everything was controlled by a MA2, programmed by Mike Appel
The different fixtures, combined with a large video screen, made balancing the luminosity and color temperatures tricky.
"It was a little blue," said Rousseau, "but with the various light sources it was critical to get the colors to match."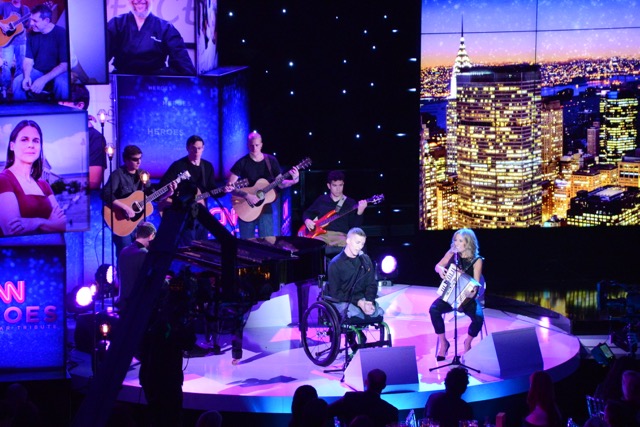 "There is a giant whale diagonally cutting the room in half that makes clean shots from a FOH position especially challenging," said Rousseau.
"Anytime we get Chris, Mike, Dan, Wolfram, Steve and I on a job together humor ensues," said Warren-Wisniewski. "Let's be honest, when you spend 60+ hours in a room with a massive sea creature suspended above your head, whale puns abound."
Stage Call Productions provided the IATSE Local One labor. 4 Wall Lighting Rentals of New York provided the equipment; Showman Fabricators built the set.