NEW YORK – The Lighting Design Group recently lit CNBC's 25th anniversary celebration at Rose Hall in The Time Warner Building. The event involved lighting three different rooms for dinner, drinks and entertainment.
More details from The Lighting Design Group (www.ldg.com)
This past November, CNBC tapped The Lighting Design Group (LDG) to light their 25th anniversary celebration.  This year also marks LDG's 25th anniversary.  The elaborate event was held at Rose Hall, home to Jazz at Lincoln Center, in The Time Warner Building.  LDG staff designers, programmers, gaffers, and Local One I.A.T.S.E crew members worked to install the affair over the course of two days and within several Rose Hall locations.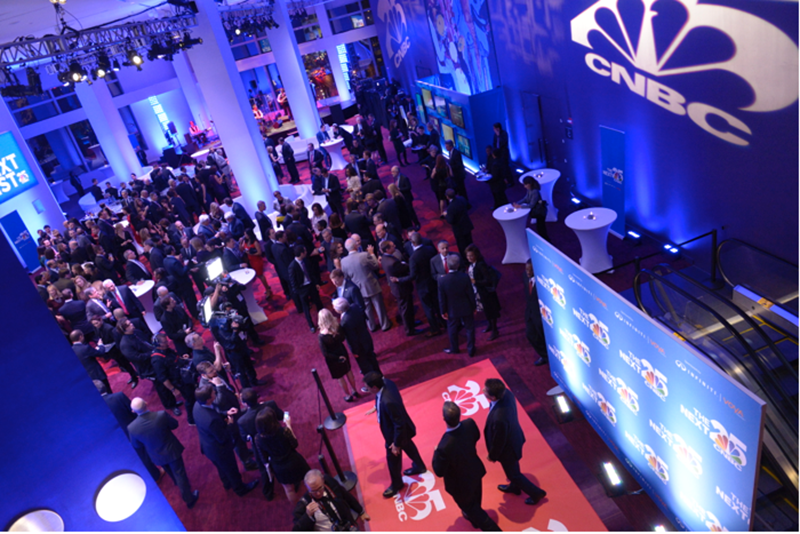 The first event of the evening occurred in The Rose Theater, lit by LDG President Steve Brill.  The one-hour, panel show was broadcast live and hosted by CNBC's Jim Cramer, host of Mad Money.  "Due to several variables we opted to use VL 3500s for much of the heavy lifting," said Brill.  One was the shutter capabilities, which allowed granular control over the lighting of each panelist.  "They are also very powerful units, allowing us to place the fixtures far away and low on the balcony rails, which works well for camera," he continued.  The most important perk was the flexibility.  "A lot changes in T.V., sometimes last minute, so it was critical for us to have the ability to make quick adjustments as changes happened."  Matt Piercy programmed the rig.
Afterwards guests moved into The Appel Room, a beautifully adorned space with large windows overlooking Columbus Circle lit by Senior Designer Niel Galen and Lighting Designer Dan Rousseau, Here guests ate dinner, while three separate panels discussed trends in business and global markets.  "Our goal was to make the room as warm and inviting as possible, but not distract from the views the venue offers of Central Park South," said Rousseau.  The team used existing gear to light the room, including Martin Vipers, lighting the panelists for camera within a warm and inviting template and color wash.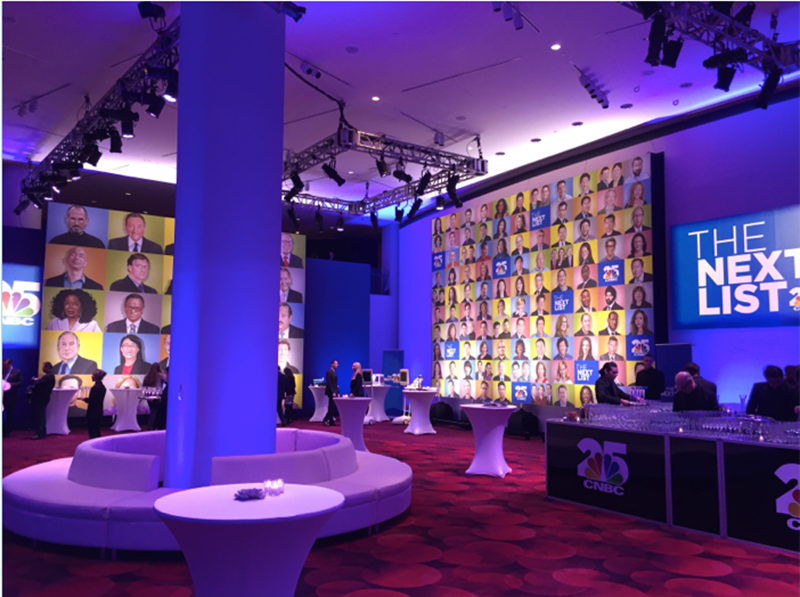 Finally guests ended their evening with cocktails and entertainment in The David Rubenstein Atrium, lit by Senior Designer Mike Grabowski.  The atmosphere here was more festive.  "Big, branded, and classy," says Grabowski of the overall design.  "Exhibits, like Google Glass, were on display in addition to other tech gear, which we lit with Source 4 lekos using enhanced definition lens tubes, which helped keep all the shutter cut lines crisp and clean."  Bands played jazz and show tunes on an installed stage.  Greg Purnell programmed the moving light package.  "This wasn't a rock concert," said Grabowski, "so we had to be conservative."  He used Nexus 4×4 panels to create simple bitmap effects to add more visual spice.
Michael Kemp, the Senior Project Manager for LDG, helped facilitate the logistics.  "There was a lot of crew to keep track of," said Kemp, "but a real challenge was the 'horse trading' of gear from room to room."  As the needs of the various rooms changed on-site, LDs would exchange gear to accommodate the changes.  "It was an odd thing to manage, this sort of bartering of lighting gear," said Kemp.  4 Wall Entertainment Lighting Rentals of New York provided supplemental lighting equipment.
Evan Purcell, Jon Goss, and Eric Kasprisin were the Gaffers.
LDG has been working with CNBC for many years.  "We are grateful to have been a part of their first 25 years, and we hope to continue providing our services in the next 25 years," concluded Brill.